Get Your Brand To Stick With Your Customers with Printed Magnets!
Whether you are taking your magnets to a convention where thousands of people will be gathering, or you give them out to customers who walk through your door, printed magnets are an unbelievably effective promotional tool.
Being able to constantly be highly visible to your customers on a daily basis, these magnets typically end up on the refrigerator or many other various places that always seem to be in plain sight.The use of printed magnets are a proven way to get and retain customers!
The use of printed magnets are a proven way to get and retain customers!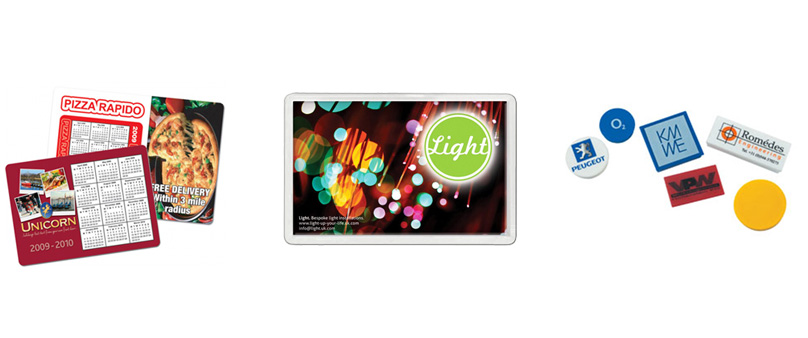 We have a full line of printed magnets that range from the basic to the creative. Different shapes, sizes and colours are the key to being visible, and stand out amongst the rest and with plenty of our promotional magnets being able to be full colour printed, you won't have a hard time doing so. We have hundreds of different designs which can be customised to your specifications.
An effective tool in marketing your product or service, printed magnets are an inexpensive way to get your name out there. You are also able to use these in conjunction with other promotional items in a "grab bag" kind of way.
Combine these printed magnets with things such as pens and notepads to be all neatly packaged in a bag with your logo to create the ultimate brand impression.
You can give to your customers and potential customers a small gift as they visit your store as an alternative if you're not at an event, creating just as strong of an impression to visitors… As we all know, everyone loves getting a gift!
Branded Magnets from Fylde Promotional Merchandise
So, not only will you be garnering attention to your company and product or service, you will be instilling a good feeling with customers when they think of using or purchasing your goods. Happy satisfied customers means repeat customers, and it is much easier to sell to a repeat customer than it is to obtain a new one.
Please feel free to browse through the many different designs we have and find the perfect printed magnet for your needs. We have many to chose from, so finding the right fit for you will not be difficult. Silly to serious, bold to subtle, we are confident that you will find the perfect fit for your company.
Again, printed magnets are an effective tool to get your name seen. We are here to see that you are satisfied with your choice and are diligent in our efforts to provide you with the best service that we can.
Let us help you with getting your brand to sick to your prospective customers and clients, call Fylde Promotional Merchandise on 0330 043 18 08 or visit our website at www.fyldepm.co.uk to choose from a huge selection of fantastic gifts!
Tags: branded magnets, customised magnets, personalised magnets, printed magnets, promotional magnets