Promotional USB Flash Drives, Highly Successful Quality Gifts
Promotional USB flash drives have become an incredibly popular and successful marketing tool. Customised with a company's name or logo, a printed flash drive makes a fantastic gift. Nearly everyone who uses a computer today needs a USB flash drive these days, and these promotional gifts offer a small, convenient way to store and transport information from your computer to another location.
Students are a large percentage of USB flash drive users, but many other people use them for work or leisure on a daily basis, so you know your USB flash drives will always be put to good use!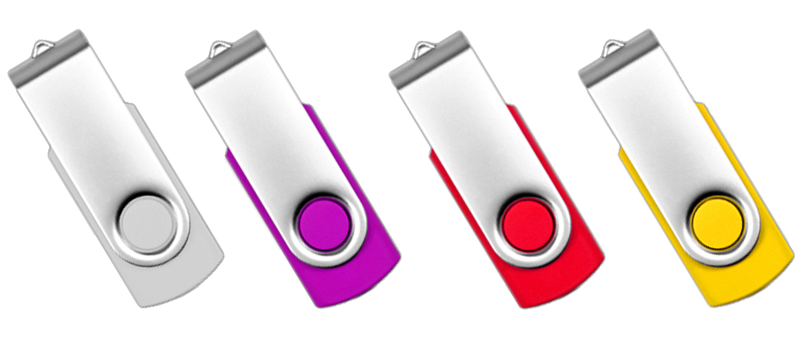 Our company offers a great selection of customised USB flash drives. Colleges buy them to spread their name throughout prospective students, and schools often use them as awards and gifts for student achievements. There are a number of great uses for these branded USB flash drives, no matter what your industry and you will be sure to see great success.
These USB drives work fantastically when attached to a key chain or lanyard or passed on to someone else, through this you get continued brand engagement and recognition, getting seen by a lot of people at all times.
Loads Of USB Flash Drives To Pick From!
There are a huge number of fantastic USB drives within our range such as the Twister USB drives, Classic flash drives and Pod flash drives that work brilliantly for business that are looking to get their brand out there at their next event or to use for a giveaway. A USB flash drive is a high quality gift that can be used over and over again for years to come and offers a high quality promotion that is hardly likely to be thrown away or wasted.
Fylde Promotional Merchandise offers a large array of customisable USB drives to fit your business' needs. With a competitive price and well built nature, we offer you everything that you could need. A professional service is provided and we will do our utmost to answer any questions you may have as promptly and efficiently as possible.
Be sure to order some promotional printed USB flash drives for your next event, giveaway or promotion for an almost guaranteed success! To find out more of our fantastic promotional merchandise on offer from, visit www.fyldepm.co.uk or contact our sales team now on 0330 043 18 08.
Tags: flash drives, usb drives